Rose categories
Events
ROSELAND NURSERY INVITES YOU TO:
"ROSES, ROSES, ROSES"
SATURDAY, MAY 9
11 TO 3:00 PM

Manny Mendes, Master Consulting Rosarian for the American Rose Society
, and
Teresa Mosher, President of the New England Rose Society
will be in our rose area to answer all your rose questions and help you select the proper roses for your garden. Handouts and care advice will be available. Please plan on visiting with Manny and Teresa as they share their weath of knowledge about all things "roses".
SALE SALE SALE
MOTHER'S DAY SPECIALS
5 GAL. FORSYTHIA
Regularly $29.99
On Sale now through Mother's Day $24.99
ABOVE ALL ROSE BUSH
2015 New Introduction. Salmon-Orange Climber. Moderate Fragrance
On Sale now through Mother's Day
Regularly $29.99
On Sale for $19.99.
AZALEAs
All Spring Blooming. AZALEAs in Assorted Colors
On Sale now through Mother's Day: 20% OFF
About Us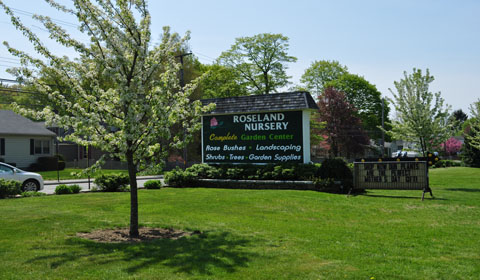 Roseland is the largest supplier of potted rose bushes in New England!
Roseland Nursery was established in 1952 by Raymond Bergeron. He started the business as a shop for cut roses. The property had a multitude of rose beds from which he cut and sold his product. He and his wife Attila "Tillie" grew the business together, turning it into a full service garden center. They retired in 1982 and sold Roseland to the current owner's, Fred and Susan Reuter. At that time David Ellis was the manager and remains as manager to this day. Together the three of them have grown Roseland to the thriving company that it is today.
Roseland is situated on 32 acres abutting the Acushnet River in Acushnet, MA. Currently 11 acres are being used for the garden center and for the growing of the 150,000 rose bushes they specialize in. We carry more than 300 varieties of roses and distribute them to 9 states from ME to PA. In addition , we carry and distribute a wide variety of fruit trees, ornamental trees, blueberries, grapes, raspberries and blackberries.
The garden center carries everything the homeowner needs to create the warm, comfortable environment they desire when relaxing in their yard. Whether you are a master gardener, beginner or want help from our staff or landscape department, we want to help turn your yard into the beautiful retreat you have always wanted and deserve. We have certified Mass. Horticulturist on staff to help you.
Hours seasonally April - November.
April 1(approximate) - July 1 Open Mon to Sat 8am - 5pm and Sun 9am - 4pm.
Closed July 4th.
July - Sep - Open Mon - Sat 8am - 5pm - Sunday 9am - 3 pm
Sep - Nov - Open Mon - Sat 8 am - 5 pm - Sunday 9am - 3 pm
Thank you for visiting!
..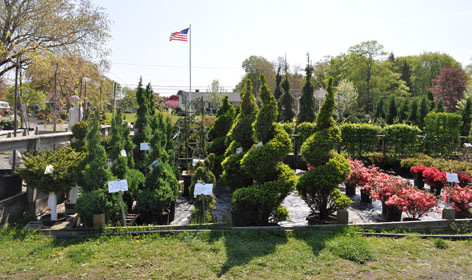 Contact Us
247 Main Street - Acushnet, MA 02743
Phone:
(508) 995-4212
E-mail:contacts@roselandroses.com